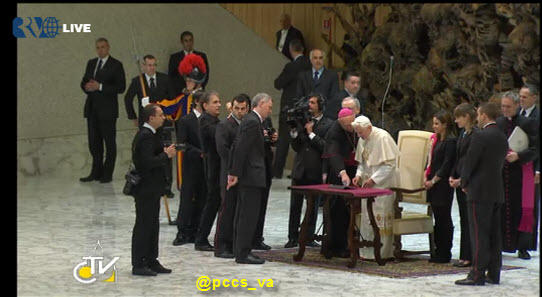 Today the Holy Father Pope Benedict XVI sent his first message via Twitter to nearly one million "followers." He said, with characteristic humility and simplicity:
"Dear friends, I am pleased to get in touch with you through Twitter. Thank you for your generous response. I bless all of you from my heart."
You, too, can follow the Pope on Twitter @Pontifex. Later today he will answer a few questions that have been posed to him.
The Holy Father's embrace of the new, social media stands against those who claim the Church is "antiquated" and "out of touch."
How much use the Holy Father will make of Twitter remains to be seen, but given his many messages regarding the importance of the new media and his desire to speak to the entire world - both believers and nonbelievers alike - it seems likely enough it will be frequent.